Sewer Gas Leak Detection
2021-06-02 10:24:41
The main smelly substance in the sewer is hydrogen sulfide. Because there is a special obligate anaerobic bacteria in the slime formed by attaching to the wall of the sewer pipe, this bacteria is mainly sulfate reducing bacteria, which reduces the sulfate organic matter in the sewage under anaerobic conditions to make it sulfide hydrogen. This free gas is released into the atmosphere and produces bad smell.
In addition to hydrogen sulfide, a large amount of methane will be produced after the manure in the sewer is fermented. Methane is a flammable and explosive gas, and it can easily cause suffocation. It is a very dangerous gas. In addition, a certain amount of carbon dioxide will be produced.
It is recommended to use the
K-600 gas detector
 (https://www.bosean.net/products/k-600_single_Gas_Detector.html)to detect the concentration of hydrogen sulfide, methane, carbon dioxide, and oxygen in the sewer. It can detect four gases at the same time. It has the advantages of safety and explosion-proof, accurate data, sensitive alarm, and rapid response.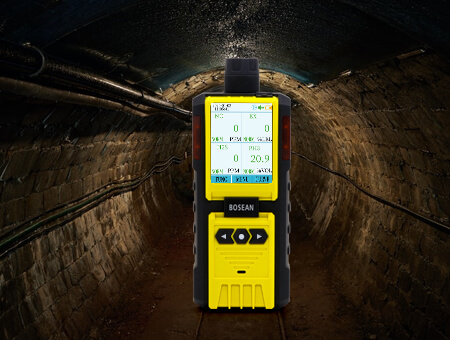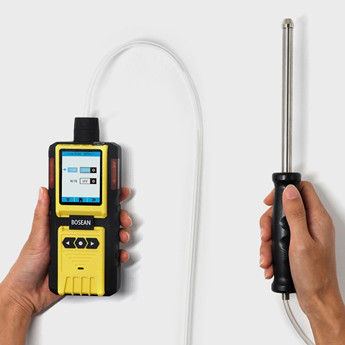 K-600 gas detector with built-in pump, robust for industrial use for utility workers, refinery workers, firefighters, maintenance engineers, those who spend time in sewers and waterworks, underground storage tanks, oil rigs, in tanks and silos in the maritime industry, and many others who need personal protective equipment.
Gas Detected:
combustible gas (CH4,C3H8,H2) and toxic gas, oxygen, Other rare toxic gas like ammonia, NO, PH3, NH3, NO2, HCN, SO2 etc also available,Can be specified by the Customer in advance. 
* Gas pump sampling method and high-sensitivity sensor,with high sensitivity and repeatability. 
* 32-bit built-in MCU, high reliability and self-adaptation ability. 
* Full functions, easy operation. 
* CSTN colorful LCD, more intuitionistic, abundant and clear indication. 
* Compact design, easy carrying. 
* High strength engineering plastics and compound anti-slippery rubber; high strength, water-proof, dust-proof and explosion-proof. 
*1200pcs data records, can be contacted with computer via software. Can print the data records, can store data records, can make the data analysis. 
| | |
| --- | --- |
| Gas sampling method                         | Gas pump sampling  |
| Accuracy | ≦±5% F.S. |
| Response Time | ≦30s |
| Indication | LCD displays real-time and system status; LED, audio and vibration alert for gas leakage, fault and low voltage, pump working state.  |
| Working environment |  -20℃~50℃, <95%RH (no dew)  |
| Power Source |  DC3.7V Li-on battery, 3200mAh  |
| Charging time | 6h~8h |
| Working time | ≧8h continuously (without alarming)  |
| Gas Sensor Life | 2 years  |
| Explosion-proof grade | Ex ib IIBT4 Gb  |
| Protection Grade | IP65  |
| Weight | Appr. 400g (with battery) |
| Dimensions | 130mm×67mm×30mm(L × W × H)  |
Inquiry
If you have any suggestions or opinions about our products, please leave a message, and we will immediately answer your questions. Thanks for your support.